Successful market debut for BoldMove's Smash & Reload dark ride family
Celebrating further market roll-out at IAAPA Orlando on Triotech booth 1069

Brussels, 11th November 2021 - Following an unseen market debut with overwhelming interest in Smash & Reload at IAAPA Expo in Barcelona, the team is now moving forward with the further roll-out across several projects. "All groundwork has been done at conceptual design level and it's been very encouraging to meet several parks owners who want to add a Smash & Reload to their attraction offering and have exactly that space to fit it in." states Benoit Cornet, CEO of BoldMove Nation, who based the concept design on twenty years of interactive and awarded dark ride expertise.
BoldMove's partner Triotech is demonstrating the Smash & Reload dark ride in miniature 3D-size at their booth in Orlando. Triotech applies their high-level, engaging show control, sound and interactive technologies to build the ride. As Concept Designer, BoldMove devises gameplay and media content with partner Polymorph, including experience design for smooth integration into the themed area or venue.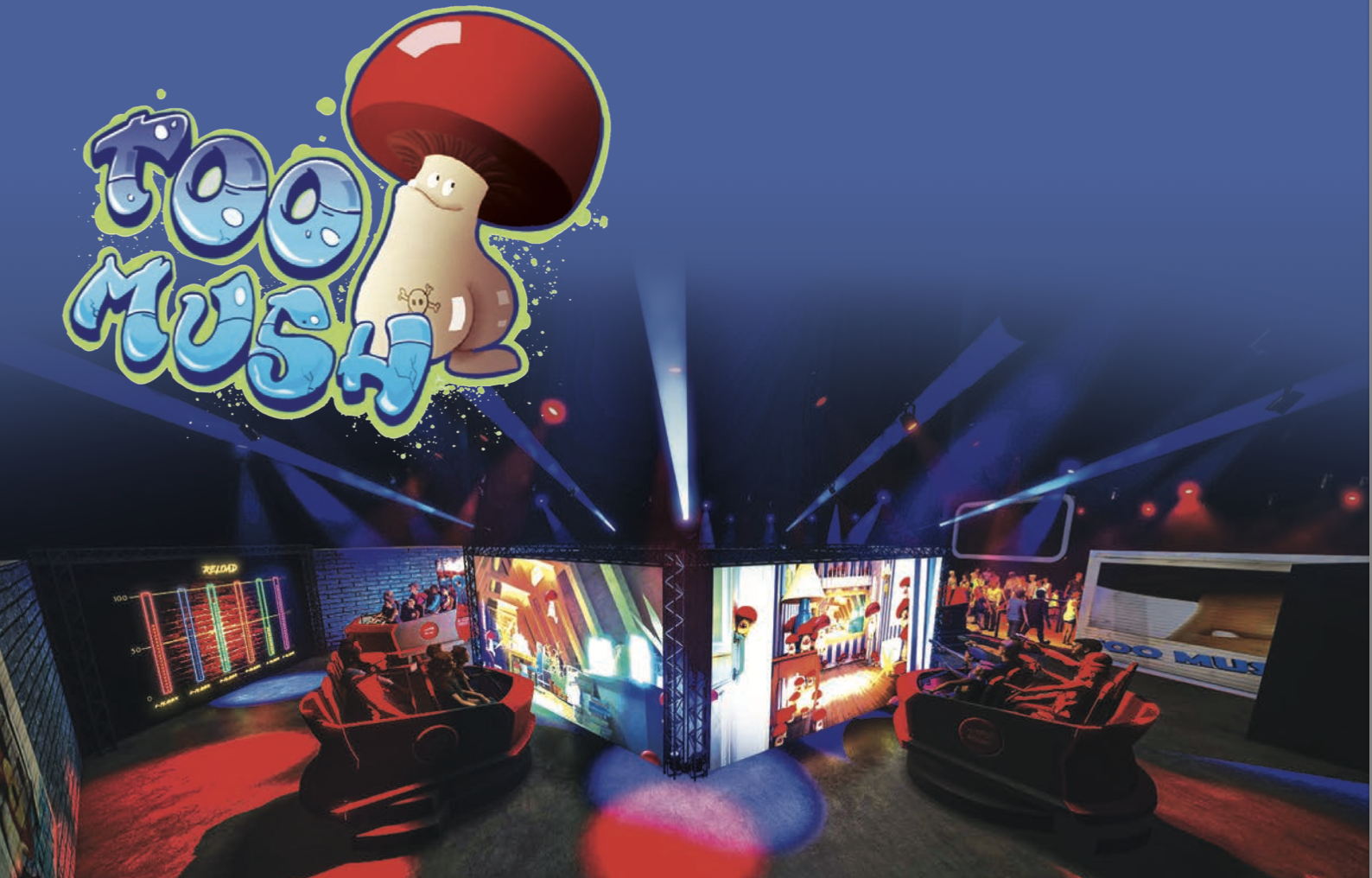 "After launching Smash & Reload amid the pandemic, we have finally been able to truly show the concept to the market. We are excited to see our vision confirmed as it fits so perfectly and naturally in most European parks we have been visiting, with just some minor adaptations to their infrastructure. This ensures that the parks are getting value for each dollar they spend. With a gameplay totally geared towards fun and experience, we achieve our mission: an extraordinary experience at a reasonable price tag - the very foundation of getting back to the essentials."
A totally new IP has been designed for the ride, featuring TooMush characters with fun and easy gameplay for the entire family. By loading their devices and aiming at the deformed zombie mushrooms, players can transform them back into their cute original status, preferably before they reach the city. However, it is not the only gameplay BoldMove is developing, other characters and interactivity forms are under development.
Smash & Reload is conceived in such a way that it guarantees fun for all ages. Mixed family squads can just load, aim and enjoy the high energy and colorful surrounding from their rotatable vehicles. More advanced players discover new dimensions in the gameplay and build a high score to challenge themselves and their friends. On installation side BoldMove has taken the concerns of parks into consideration by centralizing most cabling and technology in a central unit, easy to access and maintain. With its amazing visitor capacity on a small footprint, both versions of Smash & Reload offer the best price to throughput ratio across the industry.
Innovative experience frameworks with smart modules
​AR Hybrid Quest follows the same philosophy as Smash & Reload: to create a simple solution with innovative approach for outstanding results. BoldMove designs a powerful 'skeleton' and conceptual experience framework, with an extensive choice of smart modules and technology components that can be applied across several themes and at different types of venues.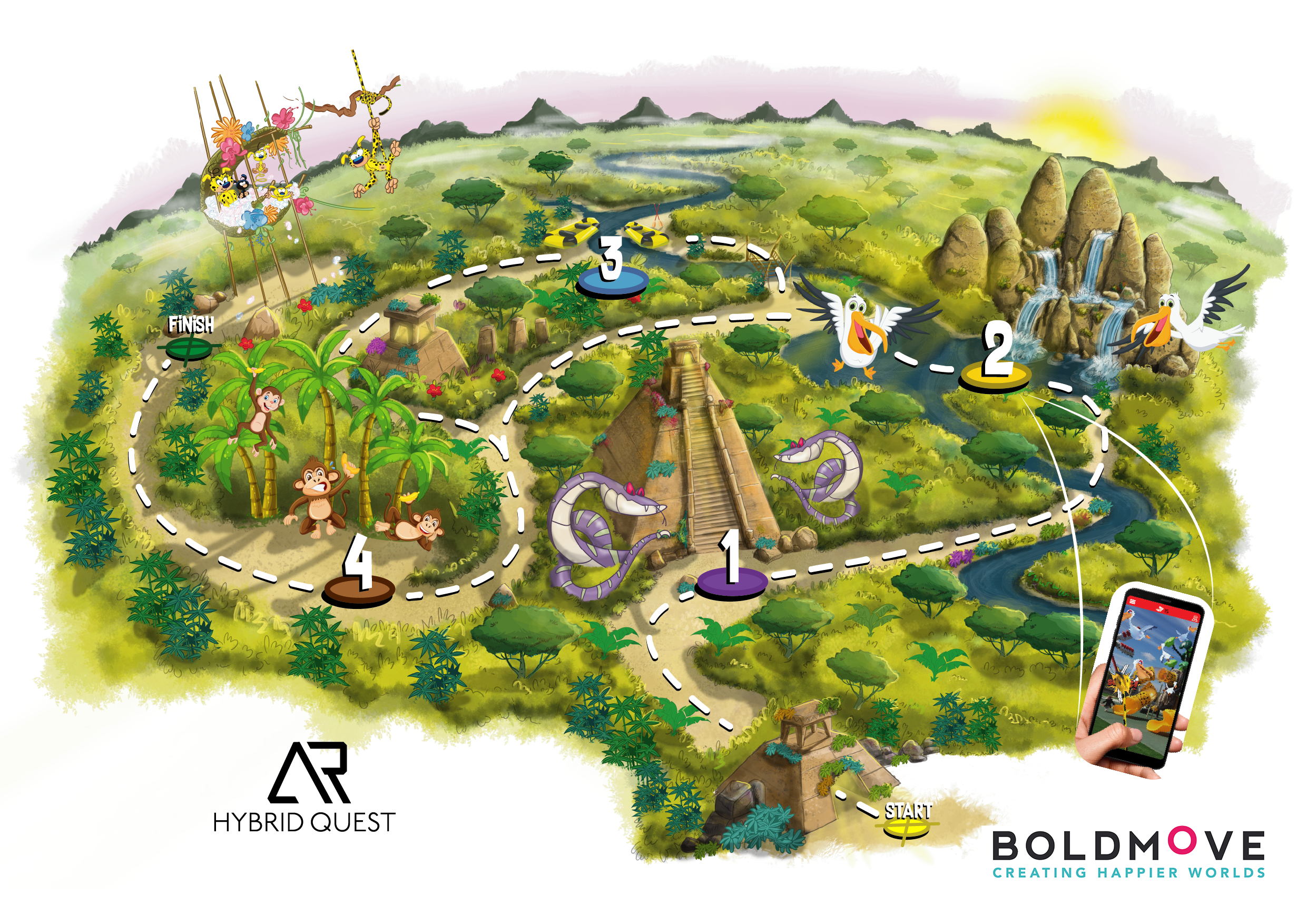 Designed as a "phygital" attraction, AR Hybrid Quest mixes activities which take place in 'Physical' spaces (park, shopping mall or any other venue) and 'Digital' actions on the internet, social networks or websites. This mixed reality game takes place in a dedicated or themed area, ​ indoor or outdoor, which is entered via a virtual gate at a physical location and finishes in a themed treasure room. Inbetween, guests are guided to different physical 'stations' with virtual assignments. Besides an engaging and superfun way to discover the park, this interactive treasure hunt offers a lot of opportunities for promotional and loyalty programs, and helps to optimize visitor flows and existing infrastructure. The entire AR Hybrid Quest is done on the visitor's own smartphone, making it a totally worry-free solution. ​ Besides Marsupilami and TooMush, a western and other themes can be used, as well as custom-designed characters or more seasonal theming.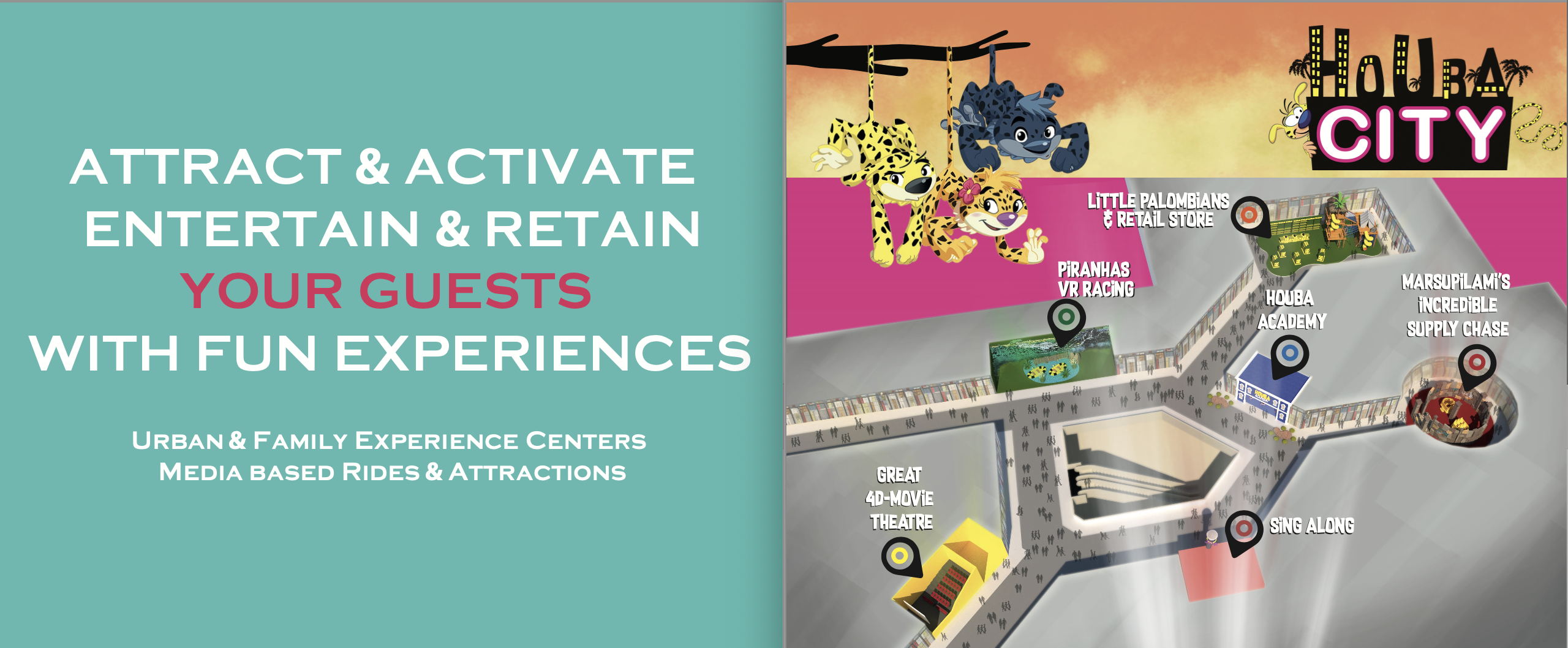 BoldMove applies its design and production services to build customized solutions across its platforms and components, all fully scalable to fit every venue or visitor profile. These are based on the team and expert partners' expertise in dark rides, media content and technologies, alongside integration of IPs and integrated storytelling. Houba City and Houba World are great examples of indoor park entertainment solutions designed by the BoldMove team to offer a mix of activational attractions for an immersive experience amongst the Marsupilami friends in their Palombian jungle. In Houba City visitors can find their own urban style, working on personal development and expressing their creativity at recurring workshops in the Houba Academy. ​ The new and innovative pop-up format features a distributed approach, allowing shopping malls or other venues to spread attractions across available or empty spaces.

Press Contacts: ​
​Anja D'Hondt, Managing Partner & Queen of Happy Hearts ​
​[email protected] +32-468-231005
Benoit Cornet, CEO & Captain of Creative Minds ​
​[email protected] +32-473-815581
About BoldMove Nation ​
​Together with a strong network of expert partners, BoldMove Nation creates Happier Worlds for leisure, tourist and retail venues. Media-based attractions are based on proven technologies and fun gameplay around compelling stories for immersive visitor experiences. With the customer interest at heart, the BoldMove Nation team offers turnkey creative and experience design services from master planning to implementation. Houba City is the first indoor Urban Experience Centre to combine a mix of challenging VR, AR and Mixed-Media attractions in a strongly themed environment. Besides custom-built dark rides and indoor parks, BoldMove offers the double-action Smash & Reload dark ride family, Sing & Rise karaoke ride and Hybrid AR Quest. ​
For more information visit www.boldmove-nation.com ​
© 2021 BoldMove Nation. All Rights Reserved. ​
​© Marsupulami 2021 Dargaud-Lombard S.A